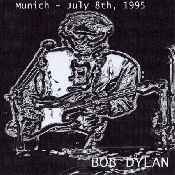 MUNICH -- JULY 8TH, 1995
no label 2CDR

(1) Terminal 1 (Munich, Germany); July 8, 1995
(2) Liederhalle (Stuttgart, Germany); July 10, 1995

Tracklist: (1) Down In The Flood, Man In The Long Black Coat, All Along The Watchtower, I Believe In You, Most Likely You Go Your Way, Silvio, Mr. Tambourine Man, Boots Of Spanish Leather, To Ramona, Everything Is Broken, Every Grain Of Sand, Highway 61 Revisited, Like A Rolling Stone, It Ain't Me Babe, Rainy Day Women #12 & 35
(2) Drifter's Escape, Man In Me, All Along The Watchtower

NOTE: Fan-circulated clone of Summer Tour 1995 Vol I; the excerpted comments are taken from the review of the original two-volume issue.

DEEP: Let's cut to the quick. I picked this set up at a recent show and was pumped all the way home to play it due to the setlist rarities. Got home, flung the coat, pulled the disk, inserted and cued "Every Grain of Sand" and, ....... mediocrity. Thought, OK, the Stuttgart filler will be better and..... mediocrity still surrounded me. What a drag, too. I'm not saying they are bad and that the performances aren't up to snuff, just that the sound quality is just OK and it's hard for me to get past that. Unlike some people, I'd rather have an average show in excellent quality than a great show of so-so quality. The subtle nuances inherent in Dylan's voice and the band's playing (which need to be heard to determine the quality of a show) are not readily apparent on these disks. The nice variety of tracks salvages things somewhat, but overall a disappointment.