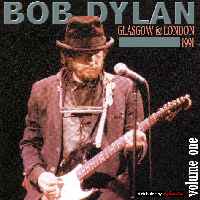 GLASGOW & LONDON 1991
Scouser/SS 119/20/21 3CDR

(1) Scottish Exhibition and Conference Centre (Glasgow, Scotland); February 3, 1991
(2) Hammersmith Odeon (London, UK); February 8, 1991
(3) Hammersmith Odeon (London, UK); February 9-17, 1991

Tracklist: (1) Mountains Of Mourne (inst), Subterranean Homesick Blues, What Was It You Wanted, Watching The River Flow, Positively Fourth Street, I'll Be Your Baby Tonight, Gotta Serve Somebody, Bob Dylan's Dream, Ballad Of Hollis Brown, Boots Of Spanish Leather, Mr. Tambourine Man, Under The Red Sky, Just Like A Woman, Political World, I Shall Be Released, Like A Rolling Stone, Blowin' In The Wind, All Along The Watchtower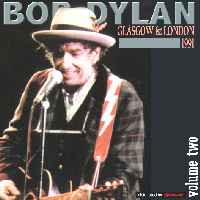 (2) Most Likely You Go Your Way, Lay Lady Lay, Masters Of War, Memphis Blues Again, The Man In Me, Wiggle Wiggle, Bob Dylan's Dream, Lonesome Death Of Hattie Carroll, Desolation Row, It Ain't Me Babe, Everything Is Broken, What Good Am I, Seeing The Real You At Last, God Knows, In The Garden, Like A Rolling Stone, Blowin' In The Wind, Maggie's Farm
(3) Don't Think Twice; One Too Many Mornings (2/9); Man In The Long Black Coat, Shooting Star, Times They Are A-Changin', Highway 61 Revisited; Tomorrow Is A Long Time, It's Alright Ma (I'm Only Bleeding) (2/12)

NOTE: The appropriate title for the Glasgow opening instrumental is open to question, and its resemblance to the traditional "Mountains Of Mourne" is denied by some. This entry uses the title listed in Dundas '99 (as well as the cover slips). If the filler tracks are chronologically organized, the first two date to the 9th, the next two to the 10th, and the final four to the 12th.