BUENOS AIRES 1991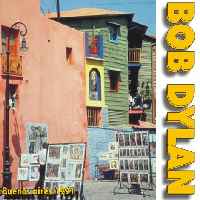 unidentified label 2CDR

Obras Sanitarias Hall (Buenos Aires, Argentine); August 8, 1991

Tracklist: New Morning, People Get Ready, Shelter From The Storm, All Along The Watchtower, Gotta Serve Somebody, Wiggle Wiggle, I Don't Believe You, I'll Be Your Baby Tonight, Trail Of The Buffalo, Blowin' In The Wind, It Ain't Me Babe, Mr. Tambourine Man, Don't Think Twice, Man In The Long Black Coat, Everything Is Broken, Highway 61 Revisited, What Good Am I, Ballad of A Thin Man

NOTE: The tracklist on the cover slips for this set, listed here, is inconsistent with the tracklist reported in Dundas '99 and with the two openly circulating recordings of the concert. The track order is scrambled, and "Trail Of The Buffalo" is otherwise known only through a concertgoer's report. The omission of the circulating "Folsom Prison Blues" from the tracklist suggests "Trail" may be an error in song identification.