ATLANTA -- AUGUST 16TH, 1989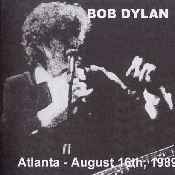 no label 2CDR

(1) Chastain Park Amphitheater (Atlanta, GA); August 16, 1989
(2) unidentified date/venue, July 1989
(3) L'Amphitheatre (Joliett, QU); July 31, 1989
(4) John F. Savage Hall (Toledo, OH); August 8, 1989
(5) unidentified date/venues, summer 1989

Tracklist: (1) (2) Legend In My Time
(3) Don't Pity Me, Ballad Of Hollis Brown, I Want You
(4) Tears Of Rage, Gotta Serve Somebody
(5) Lonesome Death Of Hattie Carroll, The Harder They Come, John Brown, Baby Let Me Follow You Down

NOTE: Filler attribution for (3) and (4) is tentative, based on setlist sequencing. The filler tracks appear to be arranged chronologically. but most cannot reliably be associated with particular performances.