MAR. 6 1986 CASTLE HALL, OSAKA, JAPAN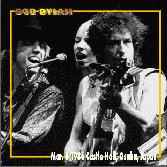 unidentified label 2CDR

Castle Hall (Osaka, Japan); March 6, 1986

Tracklist: Justine, Positively Fourth Street, Clean Cut Kid, Emotionally Yours, Trust Yourself, That Lucky Old Sun, Masters Of War, It's Alright Ma (I'm Only Bleeding), I Forgot More (Than You'll Ever Know), Just Like A Woman, I'm Movin' On, When The Night Comes Falling, Lonesome Town, Seeing The Real You At Last, Across The Borderline, I And I, Like A Rolling Stone, Blowin' In The Wind, Uranium Rock, Sukiyaki, Knockin' On Heaven's Door

NOTE: Apparently cloned from the incomplete Positively Far East, with corrected track identifications. Some, but not all, of the omitted songs are found on the LP transfer Japanese Whispers.