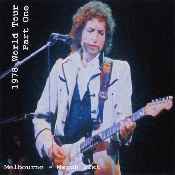 MELBOURNE -- MARCH 21ST
Eyespy 2CDR

Myer Music Bowl (Melbourne, Australia); March 20, 1978

Tracklist: Love Her With A Feeling, Mr. Tambourine Man, I Threw It All Away, Shelter From The Storm, Love Minus Zero, Girl Of The North Country, Ballad Of A Thin Man, Maggie's Farm, I Don't Believe You, Going Going Gone, One Of Us Must Know, You're A Big Girl Now, One More Cup Of Coffee, Blowin' In The Wind, I Want You, Don't Think Twice, Just Like A Woman, Oh Sister, To Ramona, All Along The Watchtower

NOTE: The cover slips (and title!) for this item report an incorrect date; this incomplete (but complete as circulating) recording apparently comes from the March 20, 1978 performance. A complete recording of the March 21 performance circulates as Melbourne 21 March 1978.