LIVE IN DURHAM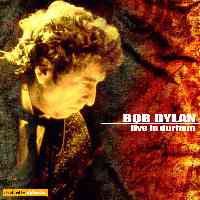 Scouser DV 1042/43 2CDR

Whittemore Center (Durham, NH); April 11, 1997

Tracklist: Down In The Flood, Pretty Peggy-O, All Along The Watchtower, Queen Jane Approximately, Just Like Tom Thumb's Blues, Silvio, Oh Babe It Ain't No Lie, Mr. Tambourine Man, Boots Of Spanish Leather, Seeing The Real You At Last, When I Paint My Masterpiece, Everything Is Broken, Lenny Bruce, Knockin' On Heaven's Door, Rainy Day Women #12 & 35

CDG: Nice-sounding, very good show. Vocals are clear and ride just above the band. Includes a sublime, swift "Boots Of Spanish Leather."