COMPLETE INFIDELS SESSIONS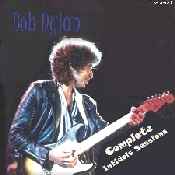 no label 7CDR

Power Station (New York, NY); April-May 1983 (some later overdubs)

Tracklist: Angel Flying Too Close To The Ground [3]; Blind Willie McTell (acoustic) [2]; Blind Willie McTell (electric); Neighborhood Bully [6]; Clean Cut Kid; Dark Groove [2]; Don't Fly Unless It's Safe [2]; Death Is Not The End [3]; Don't Fall Apart On Me Tonight [7]; Foot Of Pride [2]; Julius And Ethel [2]; I And I [5]; Jokerman [5]; License To Kill [5]; Lord Protect My Child [2]; Man Of Peace [5]; Someone's Got A Hold Of My Heart [2]; Sweetheart Like You [5]; Tell Me [2]; This Was My Love [2]; Union Sundown [5]; Sweetheart Like You rehearsals [3 versions]

NOTE: Archival collection of virtually all variant forms of circulating tracks from the Infidels sessions. [Bracketed] numbers indicate the number of tracks for each song; most songs are represented by variant forms of at least one performance. While the standard cover slips do not list any of the instrumental recordings of "Oh Susannah" from the Infidels sessions, those recordings are included at the beginning of the final "Sweetheart" rehearsal recording.