ROLLING THUNDER REVUE: TORONTO 1ST DECEMBER 1975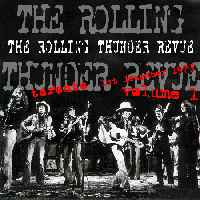 no label 4CDR

Maple Leaf Gardens (Toronto, ON); December 1, 1975

Tracklist: (1) [Revue] Good Love Is Hard To Find [Guam], Sleazy [Guam], Hula Hoop [T-Bone Burnett], Laissez-Faire [Steven Soles], Catfish [Rob Stoner], Life On Mars [Mick Ronson], Alabama Dark [Ronee Blakley/Bobby Neuwirth], I Need a New Sun Rising [Ronee Blakely], Trucker's Dream (Cindy) [Guam], Nowhere To Go [Cindy Bullens], Mercedes Benz [Bobby Neuwirth]
(2) [Joni Mitchell] Woman Of Heart And Mind, Edith And The Kingpin, Coyote, Don't Interrupt The Sorrow
(3) [Ramblin' Jack Elliott] Ballad Of Ramblin' Jack [Neuwirth], Muleskinner Blues, Pretty Boy Floyd, Salt Pork West Virginia, I Am A Rich And Rambling Boy
(4) When I Paint My Masterpiece [w/Bobby Neuwirth], It Ain't Me Babe, Lonesome Death Of Hattie Carroll, Tonight I'll Be Staying Here With You, It Takes A Lot To Laugh, Romance In Durango, Isis; Times They Are A-Changin', Dark As A Dungeon, Never Let Me Go, I Dreamed I Saw St. Augustine, I Shall Be Released [w/Joan Baez]
(5) [Joan Baez] Diamonds And Rust, Swing Low Sweet Chariot, Joe Hill, Love Song To A Stranger Part II, Long Black Veil, Please Come To Boston, The Night They Drove Old Dixie Down
(6) [Roger McGuinn] Eight Miles High, Chestnut Mare
(7) [Gordon Lightfoot] Race Among The Ruins, The Watchman's Gone, Sundown
(8) It's All Over Now Baby Blue, Love Minus Zero, Simple Twist Of Fate, Oh Sister, Hurricane, One More Cup Of Coffee, Sara, Just Like A Woman; Knockin' On Heaven's Door [w/Roger McGuinn]; This Land Is Your Land [ensemble]

rmd: A great 1975 RTR show highlighted by Dylan's three brilliant acoustic numbers and a wonderful Gordon Lightfoot set. Sound is very good to excellent for an audience tape of its vintage, with some glitches after the tape swaps, although the early part of the show is a bit muffled.

NOTE: This remastered version originally circulated via dylantree.