HOLLYWOOD -- JANUARY 19TH, 1974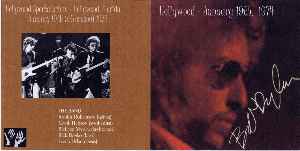 Eyespy 2CDR

Sportatorium (Hollywood, FL); January 19, 1974 (afternoon)

Tracklist: Most Likely You Go Your Way, Lay Lady Lay, Just Like Tom Thumb's Blues, LeopardSkin PillBox Hat, It Ain't Me Babe, Ballad Of A Thin Man; Stage Fright, The Night They Drove Old Dixie Down, King Harvest, When You Awake, I Shall Be Released, Up On Cripple Creek [Band]; All Along The Watchtower, Ballad Of Hollis Brown, Knockin' On Heaven's Door; The Times They Are A-Changin', Don't Think Twice, Gates Of Eden, Just Like A Woman, It's Alright Ma (I'm Only Bleeding); Rag Mama Rag, This Wheel's On Fire, The Shape I'm In, The Weight [Band]; Forever Young, Something There Is About You, Like A Rolling Stone, Most Likely You Go Your Way

NOTE: The standard cover slips for this project list Dylan's concluding set incorrectly, with "Highway 61 Revisited" as the second song and "Blowin' In The Wind" as a second, final encore. The listings for the Band sets also contain several errors. Given these issues, it is quite possible that the recording associated with these cover slips has been attributed to the wrong date.